It has often been difficult for employees and employers to find the optimum balance of work and life to suit all, however, 2020/2021 has thrown that all up in the air for a large proportion of the UK workforce, and post-pandemic there is a growing demand to move on striking the right balance now.

So, here are the 8 Top Tips we encourage employers to seriously consider, to try and ensure you strike the balance with work and life for both yourself and your team.
Education
Recognise the Signs
Flexibility
Communication
Smarter Working
Health Initiatives
Encourage Time off
Lead from the Top


NOTE :- If you get this right now, then your Talent Attraction and Talent Retention strategies should benefit significantly!
It's important to educate your employees on the benefits and advantages of having a healthy work-life balance, and also to highlight potential risks of an unhealthy balance such as burnout, reduced productivity and engagement. Share content from external sources and experts in this area internally to allow your team to build their own knowledge around this topic so they are aware themselves of how important a healthy work-life balance is.
As an employer, it's important you are able to recognise the early signs of potential burnout within your team, especially if this is a result of a poor work-life balance. By knowing what to look for and being aware of the signs, you will be able to intervene and support your employees. It will help to encourage a healthier balance before it has a negative impact, rather than dealing with burnout once it has happened.
Flexibility



Think about the workplace culture and flexibility, do you offer flexible hours to your team?
Are they able to work remotely?
Employees really value an employer who allows flexibility and a level of autonomy with managing their working hours and time, so thinking of areas to allow certain flexibility will really help contribute to a healthy balance and wellbeing.
Talk to your team about their work-life balance, carry out internal surveys and ask your team what would work better or what works well for their work-life balance. By communicating with your team you will establish how they are feeling, how you can improve and know what you are doing well as an employer. This open line of communication will also help build your relationship with your team, the trust and confidence in you as a supportive and understanding employer.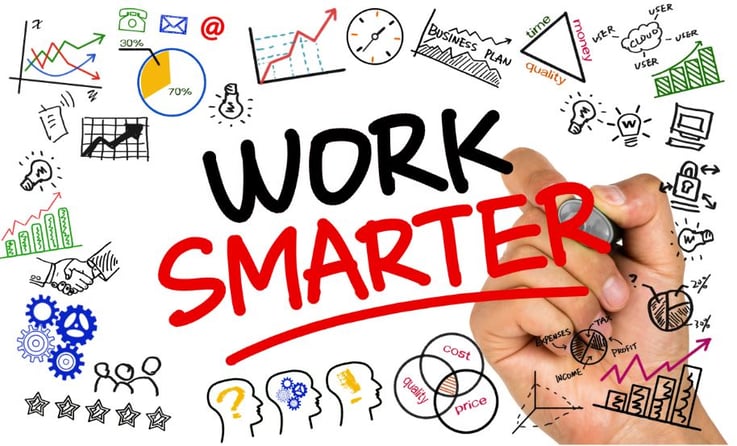 Employers and Managers should promote smarter working, what does this mean?
It means processes and actions that allow the team to thrive, work more effectively, more productive, and ultimately a greater output. This does not mean working longer hours, this could mean working less hours but being more effective during this time.
What initiatives can you put in place to facilitate this?
Or what existing processes should you reflect on to move away from an environment focused on activity targets rather than focusing on output and successes?
Do you offer health cash plans or health insurance? This is a benefit that would be well received by employees to give them the confidence and assurance they have both health and financial support should they need it. There are opportunities for health clinics where your employees can take up complementary health 'MOTs', wellbeing sessions or internal promotion of healthy living and wellness schemes to help support the work-life balance and overall wellbeing of your team.
It's important to make sure your employees take their annual leave at regular intervals throughout the holiday year to avoid working without a break for long periods.
An area for employers to visit is their holiday allowance packages, do you offer an attractive holiday allowance for your team?
Would increasing this give your team more balance and therefore more motivation and productivity?
Would this result in a more successful business output for you and a more engaged team?
Food for thought…
If you want your team to strike the balance between work and life, it's vital you demonstrate this behaviour as a leader to encourage your team to follow in your footsteps.
Talk about the benefits of all initiatives in place, encourage your team to take time off and take time off yourself. Share your thoughts with your employees, share experiences and ideas on how they too can benefit from initiatives in place and strike a healthy work-life balance...
How Can We Help You?
These are unprecedented times. The pandemic has created challenges for us all, not only in our personal lives but also our professional lives and if we can help you in any way... We will.
Hopefully, we can with our market knowledge even if it's simply pointing you in a different direction.
Our involvement in the recruitment process over the last 29 years means we have seen a range of techniques, ideas and platforms used by clients which could help you.
Why not call us on 0113 367 2880 or drop us an email here.