Leeds is now the 2nd largest Metropolitan district in England with a population of 792525 (2019) following a meteoric rise over recent years.
Did you know?
In recent years it has been the Top ranking English City to Live in the Money supermarket Quality of UK Living survey as Average Salaries rose to £22419, the weekly Cost of living remained relatively modest £377 per week. In terms of "Real"Unemployment rates, Leeds had the lowest level, except Edinburgh, when compared against 14 other Major Cities in the UK.
Around 475,000 work in the City and 1.9 million within the Leeds City Region with over 108,000 Companies generating in excess of 5% of England's Total Economic output, which puts its economy in front of at least 8 other European Countries!
So, what areas do they all work in ?
Leeds is now home to a whole multitude of Service and Industrial Sectors including education, health, scientific, print and publication, creative, digital and retail.
It is one of the largest business centres in the United Kingdom, with around 343,000 people employed in the financial, legal, business support and professional sectors in the Leeds City Region with an estimated output valued at £13 billion per year. This includes over 200 Accountancy and 180 Legal Firms making it arguably the major English Financial Centre outside of London.
Interestingly Cambridge Economic Associates' forecast of growth for the Leeds city region sees a rate that is 69% higher in the 2015-30 timeframe compared with the 2000-15 timeframe, and projects this as a low-end estimate, due in part to the strength of the city's growing financial sector.
Professor Julia Bennell, Executive Dean, of Leeds University Business School commented "The Leeds economy, and that of the wider region, is well positioned for the future. Leeds has traditionally been strong in areas such as manufacturing, chemicals, education, engineering, finance and law and we are now also sector-leading in the digital and creative industries, medical technology and business services. Looking ahead, fintech, data analytics and digital industries will be key areas of growth for the city."
Infact, the County of Yorkshire has seen a 48% growth in its digital sector in just three years, making it the fastest-growing tech region in the UK, according to new data since 2017.
It is also hoped that planned improvements to the Leeds City Region transport infrastructure, including HS2, and strategic new train stations at White Rose Office Park, Thorpe Park and Leeds Bradford International Airport Parkway will further aid growth along with city centre regeneration and out-of-town investment opportunities; and the continuing strength of Leeds City Region's commercial property market.
Who are the Major Employers?
Some of the heavyweights include Asda, Channel 4, Yorkshire Bank, Burberry, Reed Smith, Sky Bet, Arla Foods, The NHS, First Direct, Trans Union,Novuna, Centrica and Dr Oetker all of whom have significant operations within the City. HMRC have also advised of their decision to locate sizeable operations within the City.
On a smaller but still significant scale the rapid growth of start ups and SME's within the City has seen some of the regions Brightest Businesses (The Telegraph) becoming significant employers in the City such as Joe Brown's, CreativeRace, IWOCA, Troy Foods, Pharmacy2U, Rosemont Pharmeceuticals, Big Change and TPP.
Logically then, Leeds seems a pretty good place to be based.
But, If you need a bit more Persuasion…..
Shopping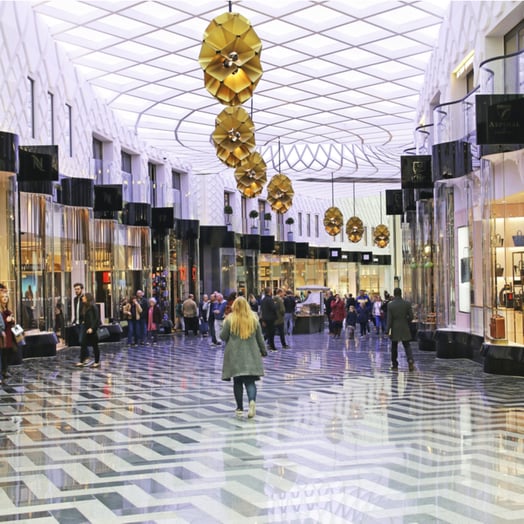 If this is your forte, Leeds is up there to be ranked with. It now boasts a flagship John Lewis Store, Harvey Nichols, Louis Vuitton and a host of shopping experiences in the shape of the stunning Victoria Quarter, the recently built Victoria Gate shopping centre (pictured above) and the Trinity Centre demonstrating the relative wealth and prosperity within the West Yorkshire hub.
The Lonely Planet even titled it "The Knightsbridge of the North".
Education
The five universities in the City and a string of other further education colleges and top-ranking private and public schools provide a rich source of talent for Organisations of all sizes, while many Leeds-born people are choosing to return home after many years of working and living away.
Culture

….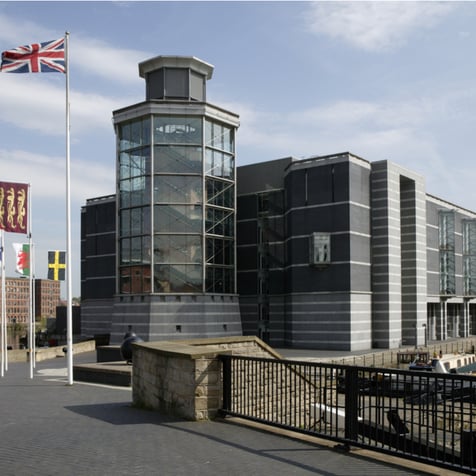 Leeds boasts a variety of top Class Museums and galleries including The Royal Armouries (pictured), The City Museum and the Thackery Museum, as well as the newly built First Direct Arena which is attracting a host of Top Musical Performers. Also, not forgetting the Leeds City Varieties, The Grand Theatre and West Yorkshire Playhouse. Opera North and the Northern Ballet are also based in the City.

Leisure
In addition to the cultural delights mentioned above, there are a host of michelin-starred fine eating establishments in the City, as well as a host of well-known sporting teams, including Premier League Leeds United, Rugby League side Leeds Rhino's, Yorkshire County Cricket Club and Rugby Union side Yorkshire Carnegie. In addition, Leeds-born Olympic athletes, the Brownlee Brothers, have helped promote Leeds as the heart of the World Triathlon series and helped to inspire the annual Tour De Yorkshire Cycling event which has followed in the footsteps of the Yorkshire stages of the Tour De France.
Yorkshire

…

the County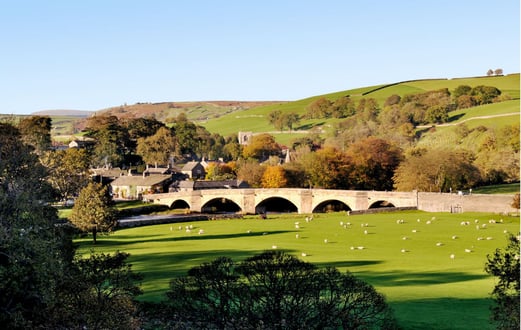 Known locally as God's own County. Within half an hour of the hustle and bustle of the City you can be on the edge of the Yorkshire Dales (pictured above) or experiencing Ilkley Moor, Fountains Abbey, the historic City of York or the delightful Spa Town of Harrogate.
From Bridlington all the way up to Whitby, Yorkshire's coastline is also impressive with countryside, white sandy beaches, tiny fishing villages and bustling traditional seaside resorts all within easy reach.
and finally a few quotes...
Professor Julia Bennell, Executive Dean of Leeds University Business School, said: "Leeds is a great place to work, study or run a business. The standard of living is fantastic – there's a vibrant social and cultural life, property is affordable, the city is surrounded by beautiful countryside and the economy is strong and diverse.
"Leeds is the largest centre for financial and legal services in the UK outside London and has one of the largest concentrations of higher education institutions in Europe."
Richard Bickers, City regeneration specialist, "The Leeds City Region has a wealth of unique strengths. With its large population, great career opportunities, good transport links, vibrant city centres and fantastic countryside surrounding it, the region offers fantastic opportunities rarely found elsewhere in the UK. These assets make Leeds a desirable place to live and work, as the region equips its people to live a brilliant quality of life while excelling both professionally and personally."
Martin Port,CEO of Big Change Apps, said of Leeds; "Its unique because it feels like a big City, but its actually condensed and very leafy. There are good links to London and good-quality people to hire."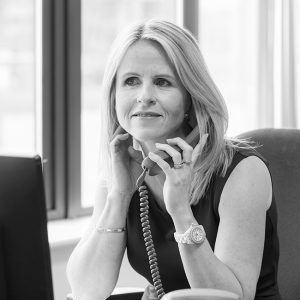 Our own Managing Director, Lucy Walker (pictured above) commented, "As a Leeds girl, it has been amazing to see the positive and relentless development of my City during the 30 years I have had the business, from both an economic and social perspective. The signs are very positive that this will only continue in the years ahead and Leeds will remain a key Northern powerhouse within the UK Economy. This is reflected in the impressive range of Clients we are now dealing with within the area and the range of roles and opportunities they have brought."
Convinced Now ?
Well, if we can help you any further, either with securing a new role in the City, a different role, or your search for new employees please take a look on our Website www.Lucywalkerrecruitment.com and make contact with us. We are always happy to have consultations about how we can help you whether you are an employer or seeking work in the City.
Lucy Walker Recruitment have 30 years' experience in working with the region's Businesses and Job seekers and are confident we can put you in touch with some great opportunities both advertised and via our network of connections.
If you're interested in finding a new role in the Leeds Area, why not check out our jobs pages or discover more about us as an organisation and what we do in our Video below.