#Findanewjobthursday... An Infographic Series
Hi, it's Daisy here !
I'm a resourcer at Lucy Walker Recruitment. What's a resourcer you ask? Well, a resourcer here at Lucy Walker Recruitment is someone who is involved in the first stages of attraction, screening and finding of people we identify through various mediums as potentially being suitable for one of the many roles we have on at any one time. Needless to say, I'm kept very busy.
Being relatively new to recruitment, I joined last Summer, I am very excited to trial new and interesting ways of sourcing candidates to allow myself to stand out from others in similar resourcing positions in order to be successful in my role and ultimately, place candidates in their dream roles! That way everyone wins. :-)
I'm a millennial, so, social media is the norm in day-to-day life and as we all know is such a powerful tool. You only have to look at Instagram and Facebook to see the likes and interactions pictures and images get from friends, family and further afield… so why not test this on a professional platform like a Corporate web page or LinkedIn ? Makes sense!
I'm really interested to see the response I get from this ongoing series, where we will be posting new opportunities via infographic on a thursday, reason for the hashtag #findanewjobthursday and to view the impact of visual advertising when finding suitable candidates for the roles we recruit for at Lucy Walker Recruitment.
Having done a little research into visual advertising and following discussions with our marketing team, its safe to say visual advertising can have a number of advantages;
It can increase brand awareness
It can increase the audience reach (my ads may end up going viral…who knows!)
It's quick, easy and informative
It's not overly common in the recruitment industry
And it is fun!
Over the next few weeks I'll be posting a number of opportunities via social media channels so keep a look out for me and #findanewjobthursday and see if any of the visuals appeal to you.
Oooh and heres the first one by the way :-)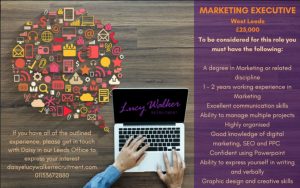 Speak soon
Daisy Mackay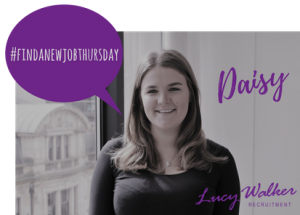 University of Newcastle Graduate Daisy, joined the team as a Resourcer working closely with Lucy to develop her skill set. Daisy joins with an impressive International flavour to her student work experience history. This includes seasons as a Chalet Host, a Resort Rep and an Information Officer in the French Alps as well as a Lifeguard and Counsellor at YMCA Camps in the USA.