A profile of Jennifer Brandwood:-
Jennifer the person
Jennifer comes across as a warm lively and enthusiastic character both on the phone and in person. She is a keen fitness enthusiast who has a love for yoga and running, both of which she is able to encompass into her working life as well as her personal life. Two years ago, she set up Yoga sessions onsite at her employer Zenith which has been a great success, encouraging the employees coming together from all levels and departments to take part in group activities. We're told Jennifer has now perfected her yoga headstand !
Also, as part of the build-up to the opening of Zenith's new Leeds site, Jennifer along with a number of her colleagues recently took part in a 6 km run from the existing office to the new office location in Kirkstall Forge . Fun was had by all with a Hog Roast on arrival and exciting talks about the big move later this year.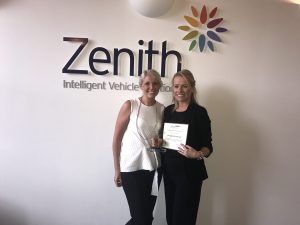 Jennifer (R) receiving her award
How it all began
Jennifer began her long career at Zenith 16 years ago, starting as an Office Junior supporting a number of departments, gradually building up her knowledge of the company across the board. After a short period of time, she was offered the role of Receptionist and was trained by her predecessor who she described as a fantastic role model and she feels she really learnt from the best.
A Typical Day
Jennifer's role is very structured and even though no day is ever the same, she has a great routine she works through on a daily basis. Starting the morning opening up the office, making sure the office is tidy and presentable, before running through various lists to check any orders or arrangements she needs to organise for meetings, trips and events throughout the day. Jennifer is responsible for handling busy post and email inboxes and the switchboard, both internal and external, so there is rarely a time where her workload is quiet, which Jennifer loves as she likes to be busy and challenged! Jennifer is also responsible for facilities management so handles internal and external requests. Another key responsibility for Jennifer is to enrol new starters on the internal training platform, this is something which, due to Zenith's frequent recruitment is a task on a daily basis.
The best thing about her role and working for Zenith
Jennifer loves every aspect of her role, she enjoys the people she interacts with on a daily basis, the opportunity to continue learning and the organisation itself. Each day Jennifer meets new people coming from all over the country, she's also built great relationships with frequent visitors to Zenith.
Jennifer has continued to learn and develop in her role, she has recently taken on more responsibilities within facilities management so is currently undergoing further training.
Jennifer loves working for Zenith and her length of service is testament to that. Jennifer feels they are a fantastic organisation to work for, unlike many large companies where employees are sometime left feeling like another 'number' she feels fully inclusive in the organisation. Colleagues of all levels have excellent relationships, regardless of status or seniority which makes Zenith such a great place to work. The company offer excellent benefits to staff as well as opportunities to learn, develop and thrive within the company.
The key qualities of a Receptionist
We asked Jennifer what she believes are the key qualities of a receptionist and what advice she would give to someone looking to pursue a career in a receptionist or front of house, customer facing role. The 6 key qualities Jennifer believes are essential to being a top-quality receptionist are;
1 - to have a positive mindset,
2- to always be helpful,
3- to be cheerful,
4- to be kind,
5- to always be proactive
6- to go above and beyond when you can with a 'can do' attitude.
Favourite funny Moment
As part of a work fundraising event for Children in Need, Jennifer along with her colleague Jo dressed up as Patrick Swayze and Jennifer Grey (Baby) from Dirty Dancing and won! Sadly we don't have any pictures.